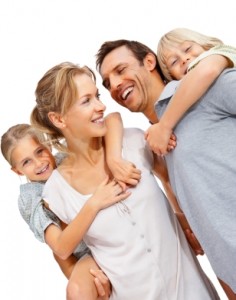 As a mother of twins, I sometimes think I've heard it all. Everyone is fascinated by and has questions and comments about how they imagine life with twins must be. But as I sit here thinking about marriage after multiples, one comment keeps coming to mind, "God knows who to give them to."
When we found out we were expecting our identical twins at just 7 weeks, a multitude of emotions ran through me. My husband and I had been married for five years when they were born, and I thought we knew each other and were as much a "team," as we were ever going to be. Thankfully, I was wrong… very wrong.
While I was in the hospital, the 'hubs' stepped up more than I could have ever imagined! His extra efforts have continued (for the most part), and I truly think that this is what has kept us both sane.
First of all, go in knowing that twins require a tag team effort, if at all possible. Share responsibilities as much as you can. For instance, until I had completely healed from the c-section and he had to return to work; we both got up to do night feedings. And to this day many family "chores" are tag-teamed. We take turns getting up early in the mornings with them, and even if the other only gets 10 extra minutes in bed alone; it really makes a difference. Also, bath time is most often a joint effort, with one of us doing the bathing and the other getting jammies and such laid out, and then, the girls dressed.
If things don't naturally flow with 'who does what,' consider sitting down and discussing the need for joint responsibility and if putting things in writing helps, then by all means, make a simple chart and post everyday tasks to be completed.
Next, if you have help, just be happy with it. As difficult as it may be to watch your spouse or someone else not do something in the exact same manner you do, bite your tongue if it's not causing harm. And don't forget to praise and show gratitude to those offering help!
And lastly, (and possibly most importantly), take time to just be a couple! Whether you have time completely away from the kiddos, or it's simply after they're all in bed; set aside time to just enjoy being together. Share a meal, a movie, or even just conversation. Remember that kids feel tension between their parents, even when you think you're doing a good job hiding it. One of the most important things you can do for you children is to nurture the relationship with your partner. When love overflows, it spills over onto everyone, all around!
Build a marriage team fit for twinnies by sharing the load; accepting help; and loving each other!
To read more thoughts on marriage after kids, visit my blog: Twins! A Mother's Joy and Insanity Doubled. You can also find me on Facebook and follow me on Twitter. I'm on open book and welcome any questions or comments you may have!